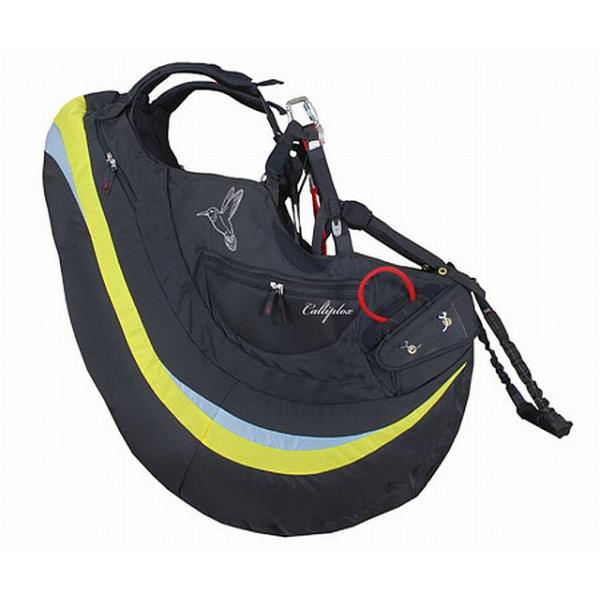 Mountain Light Calliplox
Price: $690.00
Product Code: Mountain Light Calliplox
Product Status: back order
A light harness with small volume without abdicating the comfort and a compact design paired with the safety of the Cygnus Airbag.
Destined to all pilots who are searching for a light, comfortable, aerodynamic harness with precise handling.
Completely certified for back protection, structure (120kg) and operability (DHV GS-03-0375-10). Certification Link >>> Mountain Light Calliplox
---
Click here to see the Mountain Light Calliplox photo galery!
---
M, L and XL
M 3,2Kg, L 3,6Kg, XL 4,0Kg
This is just a reference table. It can not be used as exclusive resource for size decision. Consult your dealer.

Fabric:
- Cordura®
- High tenacity Rip Stop Nylon

Buckles and hardware:
- Australpin
- ISR
- Charly-Finsterwalder
- National Molding

Straps:
- Poltex: Polyamide and High tenacity Polyester.

Finishing
-Neoprene
-Zipper YKK
Click here to download the Mountain Light Calliplox Manual in PDF format.
---
The Calliplox is refined and innovative in all its details:


---


Independent bridles system according to LTF norm.




Quick lock leg buckles






Safety-Cobra "T" chest buckle




Tension retrieve speed system when not in use






ABS-System for more passive safety in turbulences




Easy Trimmer side adjustment




Adjustment straps manufactured according to LTF norm.




Double System Speed pulley





Rescue container with interleaved blades




Failure safe RS handle






Waist adjustment




---


Back composed by ergonomic foam back protector and PP




25mm foam seat






Anatomic padded shoulders to avoid attrition with neck




Passage for hose from the compartment of water






Passage for hose from the compartment of water




Side pocket with zipper





Graduated adjustment system to facilitate handling of RS release, flight position adjustments, tensioning of speed bar




Polypropylene side plate for better load distribution






Elastic rig for speed system and foot stirrup




Chest strap;
Radio holder with velcro




---


Calliplox




Calliplox






SOL