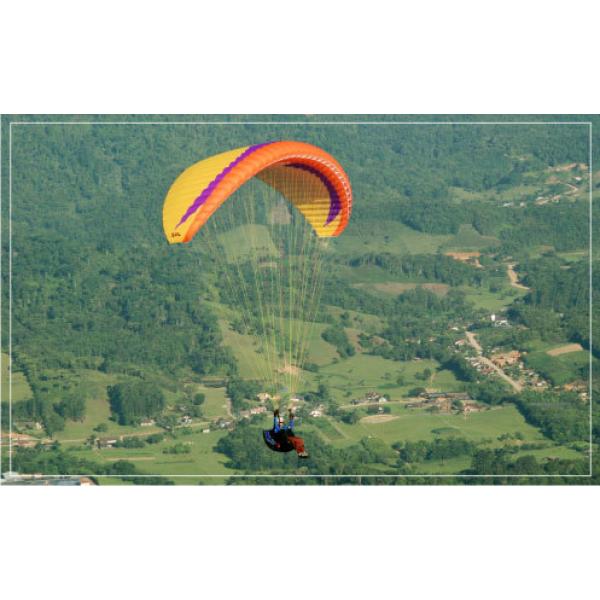 SOL - Prymus 3
Price: $3200.00
Product Code: SOL - Prymus 3
Product Status: available
Prymus continues to develop to a new version. Prymus 3 was developed to be used in schools, beginners and regular pilots that like safety.
The aim accomplished is a paraglider that allows the pilot to feel the magic of flying, enjoying the ascendants to be hours in the air, making distance flights and with time to start your 'freestyle' flight.
Another product SOL that incorporates the 16 years experience of our developing team along with the most important competition results and world records gained with our equipment.
---
PHOTOS
Click here to see Prymus 3 photo gallery!
---
The Prymus 3 uses SOL technologies for performance and comfort:


PERFORMANCE TECHNOLOGY


FHT - Full Hibrid Tecnology: a hybrid utilization of 3 types of fabric - combining durability and resistance and low deformation;






LT - Laser Tecnology: Molds cut with Laser equipment.



COMFORTABLE TECHNOLOGY

1- Brake pulley;
2- Risers magnetic button;
3- Swivel;
4- Magnetic button in the brake handle;
5- Nylon inserts on the carabiners;
6- Nautical pulley in the speed system;
7- Speed system clips;
8- Different colors of risers on the left and right sides
---
BEHAVIOUR DURING THE FLIGHT
A smart choise since the beginning!! Prymus 3 was developed to beginners or occasional pilots who desire to fly with total comfort, safety and precision.
Prymus 3 is also indicated to pilots who want to start in the free style - it accepts most of the maneuvers easily and safely.
It takes off easily; it has an excellent performance, low B-estol velocity, long and progressive commands. Prymus 3 will help the beginner pilot until the first distance flights.
LTF 1 homologation, Prymus 3 is recommended to schools and apprentices.
---
DESIGN AND CONSTRUCTION
Prymus 3 is a beautiful elliptical canopy with a lightly positive arrow shape.
Its construction is composed by 39 cells and this guarantee an extra straight side, exactness in the airfoil and a consolidated stability.

---
CONSTRUCTION CHARACTERISTICS
The constant new soft wares improvement, new automatic systems of production and the experience of our team add to each new product changes that allow bring to the market a paraglider that offers more resources to the pilot.
Prymus 3 in construction presents:
a bigger projected Aspect ratio; new profile chosen for maximum stability and a more refined construction for this class.
The materials used were carefully chosen thus guaranteeing a great stability and a high safety level.
All SOL paragliders are manufactured in our own plant, certified by DHV.
---
FLIGHT CHARACTERISTICS
All the desired characteristics for this class are in Prymus 3. Its differential for this class is the exceptional performance and handling that allow the pilot to evolve without the need to change of equipment.
Easy inflation and takeoff;
Long and tolerant brake length;
Excellent and precise handling;
High internal pressure;
Stability even in high speed;
Light reaction during extreme maneuvers;
Good passive safety;
Great behavior in thermals.
The Prymus 3 is the result of the excellent union between easy use and safety..

---
PRYMUS 3 IS DELIVERED WITH
Wind Sock 'M' without hoop;
Basic maintenance Kit (line 1.1 and Rip stop sticker);
Measuring Tape to check the distance between carabiners;
• Standard speed system.
---
WARRANTY
All SOL gliders have 3 years or 300 hours of flight warranty. Click here and read the Warranty Terms. .
Click here and read the Warranty Terms.


---
Click here to see the Prymus 3 Line Layout in PDF format.



---
MANUAL
Click here to download the Prymus 3 Manual in PDF format.




---
CERTIFICATION
Prymus 3 is a LTF 1 certified paraglider.
Click on the sizes and see the test results carried out by the Germain Institution:
M, XL.
---
2D VIEW
---
COLOURS
---
TECHNICAL DATA

(*) Glider performance depends of position of the pilot and the aerodynamic style of the harness.
---
MATERIALS
Since 1991 SOL has been producing and following the evolution of materials and products. Our experience makes us choose the materials carefully, thus guaranteeing a good stability and a high safety level. All SOL paragliders are manufactured in our own plant, certified by DHV.

Top/Bottom:
Gelvenor LCN066 OLKS 49 g/m²
Gelvenor LCN066 OLKS-2 45 g/m²

Profiles/Diagonal:
Pro-Nyl nylon rip stop - PU coated.
Pro-Nyl Hard Finish

Reinforcements:
Mylar Diax 60 P

Lines:
1,1mm Cousin Technora - Load of Rupture: 85Kg
1,5mm (1,7mm) Cousin Superaram Technora - Load of Rupture: 150Kg
2,1mm Cousin Superaram Technora - Load of Rupture: 260Kg

Risers:
Fitanew 19 x 2,0 mm Flat Multi 1600Kg

Carabiners
4 x 22mm Stainless Ansung Precision
Related Products