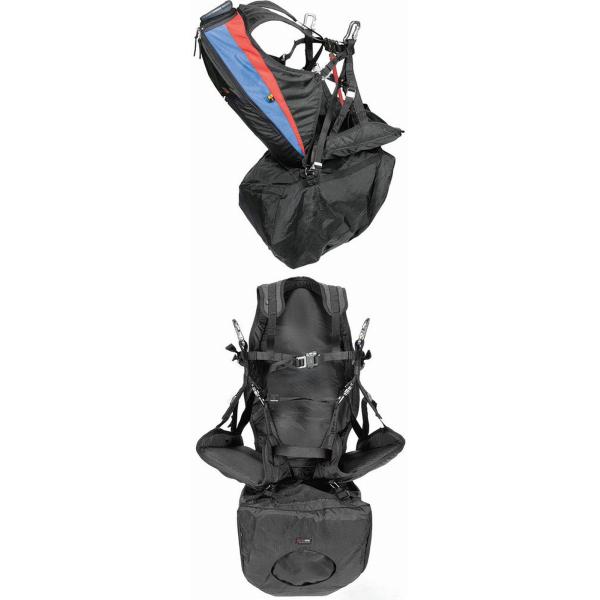 Split Passenger 2
Price: $600.00
Product Code: Split Passenger 2
Product Status: back order
The Split Passenger 2 is a harness for tandem flight passengers with support to separated legs, facilitating landing and take-off.
Illustrative Photo. The carabiners and instruments are not included in the harness Split Passenger 2
---
The Split Passenger 2, refined and innovative in all its details:


---



Fast leg buckles




Fast chest buckles






Shoulder adjustment buckle




Adjustment straps catcher according to DHV









Seat angle adjustment



Airbag






---



Anatomic back composed by foam




Strap connected to the shoulder and seat making
easy to take-off and flight position adjustment







Anatomic shoulder cuts to avoid friction with the neck




30L baggage capacity with water and radio
compartment bag







Reinforcement for a better load distribution




Board seat or high density foam plate (optional)






Side zippered pockets





Removable Instrument case and at the pilot's
vision line



Instrument case bag






---


Fabric:
- Cordura®
- High Tenacity Rip Stop Nylon

Buckles and hardware:
- Australpin
- ISR
- Charly-Finsterwalder
- National Molding

Straps:
- Poltex: Poliamida and Poliester High Tenacity.

Finishing:
-Neoprene
-Zipper YKK
L
2,7 Kg
This is just a reference table. It can not be used as exclusive resource for size decision. Consult your dealer.
Click here to download the Split Passenger 2 Manual in PDF format.