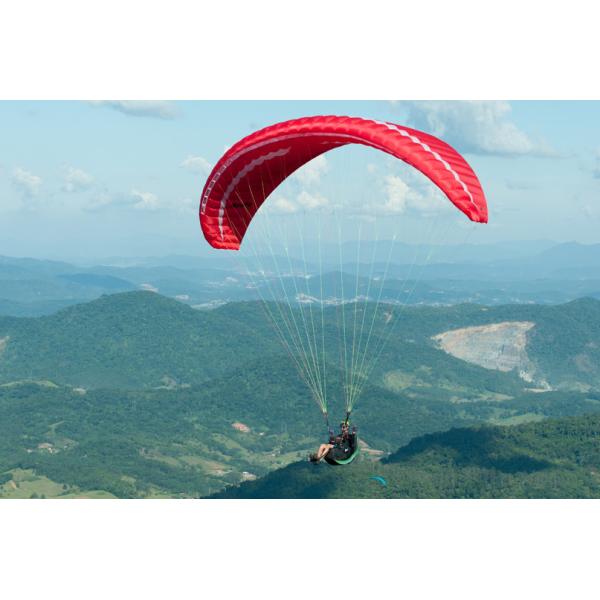 SOL - Start ONE
Price: $2900.00
Product Code: Start ONE
Product Status: available
The START ONE is a new wing project especially tailored to the beginners in our sport to help them get started.
The wing is designed primarily for teaching but also suitable for pilots who are particularly concerned on safety. You can learn on this wing, create confidence in flying, continue to develop in the sport to traverse with safety all key stages of paragliding.
The START ONE is certificated EN / LTF A and meets the most stringent requirements in terms of passive safety.
The new technologies make it possible that the glider executes all the necessary safety criteria for teaching and at the same time provides a performance in its class that have been unthinkable a few years ago.
We welcome on board all who wish to experience the emotions and challenges of paragliding and hope you'll enjoy every moment on this wing.
Click at the picture and customize your personal wing >>>
(*) Glider performance depends of position of the pilot and the aerodynamic style of the harness.
The Start One presents:
• Top and bottom design;
• Riser for big ears;
• Diagonal bands to reduce weight and the number of lines;
• Profile reinforcement in Carbon/Mylar;
• Reinforcements in batten technology;
• Opening on the stabilizers to remove dirt;
• Panels, profiles and parts cut by laser.
Its higher aspect ratio allows a more precise piloting both to active pilots who like to use the body, as well as to passive pilots who prefer to act using the brakes. This characteristic allows a great performance in weak and strong thermals, while stability is maintained.
• Long and tolerating brake length;
• Excellent and precise handling;
• High internal pressure;
• Stability in full speed;
• Light reactions in extreme conditions;
• Good passive safety;
• Excellent take off characteristics, even in nil wind;
• Comfortable piloting;
• Good behaviour in thermals.

• Big deluxe backpack;
• Internal protection bag;
• Compression strap;
• Risers' protection sack;
• Wind sock;
• Basic repair kit;
• Speed bar;
• User's Manual;
• Cap;
• Measuring Tape to check the distance between carabiners.


Certified
LTF/EN-A by DHV .
Click on the sizes to see the test results:
S, M and L.
Since 1991 SOL has been producing and following the evolution of materials and products. Our experience makes us choose the materials carefully, thus guaranteeing a good stability and a high safety level. All SOL paragliders are manufactured in our own plant, certified by DHV.

Top/Bottom: WTX 40 - 40 g/m2

Profiles/Diagonal Pro Nyl 42 g/m2 rip stop PU coated

Reinforcements: Battens (BT Technologies)

Lines:
-1,1 mm Cousin Dyneema
-1,1 mm Cousin Superaram
-1,5 mm Cousin Superaram
-2,1 mm Cousin Superaram

Risers: Fitanew 15 x 2,0 mm Flat Multi 1600kg

Carabiners: Ansung Precision 4mm 800kg

Pulleys: Nautos/SOL
Related Products