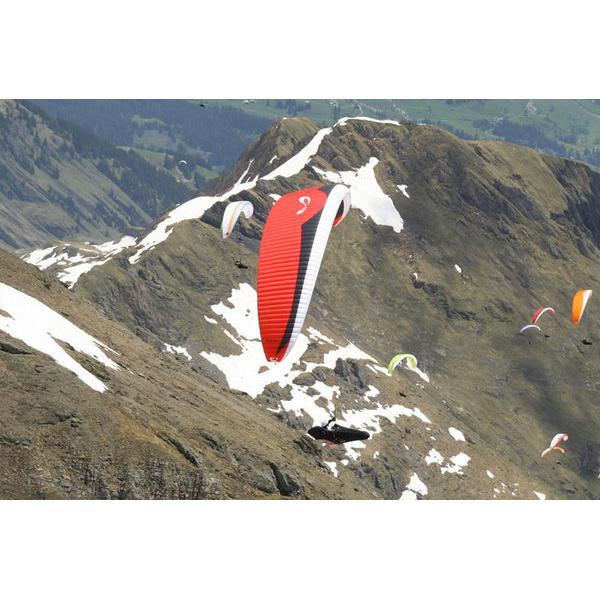 SOL- TRACER
Price: $3900.00
Product Code: Tracer
Product Status: available
At every launching our designer André Rottet aims to innovate and consider the pilot´s new ambitions. Every product has been shown as innovator and highly competitive in its class.
For our new competition paraglider the main of the project was a paraglider able to fly in faster velocities. Years of experience and tests with our pilots and development team have converged to this result.
With Tracer 2008 pilots will find non conventional characteristics to this paraglider category, such as: weight, construction, materials, performance and stability in high speed.
---
PHOTOS
Click here to visualize the TRACER 2008 Photos gallery!
---
Tracer 2008 innovates due to several new features.
PERFORMANCE AND SAFETY TECHNOLOGY:

HP - "High Pressure" :system of cells distribution with a reduction of 22% in the cells opening in comparison to a conventional project what results in a low deformation in maximum velocities and an inherent stability.


VF - New generation High-tec Vectran ® Fiber: special line set in Vectran ® / Technora ® with 20% of drag reduction compared to the traditional uncovered lines.


HPAR - High Project Aspect Ratio: : higher aspect ( 5.3) and project ratio (7.2) - an ideal combination between surface and projected surface - minimizing drag and maximizing glide.


FHT - Full Hybrid Technology: a hybrid utilization of 5 types of fabric - combining durability and resistance with less weight and low deformation.

LT - Laser Technology: Molds cut with Laser equipment.
PSS - Progressive Speed System: Progressive Speed System with a maximum utilization and stabilization system after 70% of acceleration.
COMFORTABLE TECHNOLOGY:

1- Brake pulley
2- Risers magnetic button
3- Swivel
4- Magnetic button in the brake handle
5- Nylon inserts on the carabiners
6- Nautical pulley in the speed system
7- Speed system clips SOL CONSTRUCTION CHARACTERISTICS:
---
Diagonal Full V-V Ribs Technology;
Set of lines with performance and low deformation;
Diax 120 P Mylar/Carbon reinforcement;
All internal sewings and mini line attachments;
Leading-edge reinforced with Dacron®;
Trailing edge reinforced with Dacron® and Kevlar®;
New speed system with double transfer and 22 cm course;
All the materials used were carefully chosen, so guaranteeing a great durability and a high level of safety.
All SOL paragliders are manufactured in our own factory, certified by
The Tracer 2008 is destined for an experienced and restricted group of pilots that pursue results in competitions and in long distance flights.
It is distinguished from other paragliders of this category by its whole efficiency: handling and an excellent result even when highly accelerated. Tracer 2008 will be fully enjoyed only if piloted by someone who is experienced in flying high performance paragliders. Its behavior during the flight, even being secure to the category, demands pilot knowledge in order to avoid undesirable situations.
An active handling is necessary to fly with this class of paragliders.
---
DESIGN AND CONSTRUCTION
The layout is modern. It has 64 cells, a new aerodynamic profile and a bigger aspect ratio than its predecessor. All of this allows a maximum result in terms of gliding and velocity.
The layout is completely new and it follows a more symmetric and more elliptical line. The cells width proportionally reduces towards the stabilizer.
The distance among the cells is constant due to a vectorial strap among the line attach points. Three levels and new suspension lines were optimized to reduce drag and make it easy to handle.
---
FLIGHT CHARACTERISTICS
Excellent inflation and easy handling;

Excellent taking off even without wind;

Comfortable handling and a great result in the thermals;

Low sink rate;

Big velocity window;

Exceptional glide with speed system;

Very flat polar curve;

More stable in maximum velocity.




---
THE TRACER 2008 IS DELIVERED WITH
Basic maintenance Kit (line 1.1 and Rip stop sticker);
Measuring Tape to check the distance between carabiners;
• Standard speed system.
WARRANTY
---
Click here and read the Warranty Terms.
---
MANUAL
Click here to download the Tracer 2008 Manual in PDF format.
---
LINE LAYOUT
Click here to see the Tracer 2008 Line Layout in PDF format.
---
2D VIEW
---
COLOURS
---
TECHNICAL DATA

(*) Glider performance depends of position of the pilot and the aerodynamic style of the harness.


---
MATERIALS
Top/Bottom:
Gelvenor LCN066 OLKS 49 gr/sm Nylon 6.6 HT OLKS2 45 GR/M2

Profiles/Diagonal:
Pro-Nyl Rip Stop revestido com poliuretano.

Reinforcements:
Diax 60P/120P Mylar/Carbon

Lines:
0,45mm Edelried Superaram uncovered - BL 45 kg
0,60mm Edelried Superaram uncovered - BL 60 kg
0,80mm Edelried Superaram uncovered - BL 80 kg
1,0 mm Cousin Vectran® ULTIMATE - BL 150 kg

Risers:
Fitanew 12 x 2,0 mm flat BL 1.600 kg

Carabiners:
Royalmax 12
Related Products